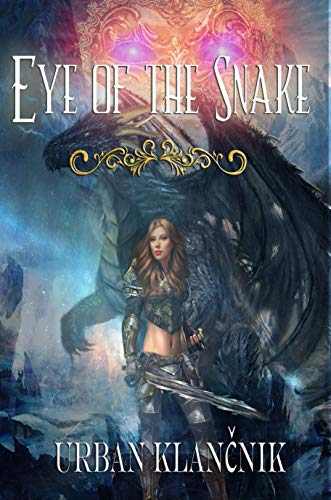 Eye of the Snake : Urban Klancnik
Eye of the Snake
When a young boy and his parents are kidnapped from his home, a dark god puts his plan into motion.
The age of blood and darkness will descend on the human world, for through the boy a forgotten evil can be reborn. But there is hope, as a knight of light has also come into play.
The Eye of the Snake is a tale about an ancient war between a dark god Aryon and the human race. Aryon's monsters relentlessly attack the ten kingdoms, but for a long time, the humans managed to hold back the forces of evil.
But what humans don't know is that the dark god is only waiting until the time comes for his 'son' Taryon to be reborn. He will be the ultimate weapon against humanity.
Luckily there is hope, for the forgotten goddess of light named Talain will also have a champion of light to battle the dark prince and stop the end of the world. And this time it's a girl.
But things aren't as black and white as they seem at first. As the knight of light grows older and becomes a warrior, she is starting to learn who Aryon and Talain really are. Who the ancient gods that started the war were, and especially what the role of humans is in the war and that they are not beyond evil. She also learns about mysterious creatures from someplace called The Lightworld.
The book contains epic battles, secrets that sometimes mislead a reader, lead him down a false path and then pull him forcefully back to the truth. And the key to the mystery surrounding the Eye of the Snake seems to lie within the dragons.
Urban Klančnik is a writer from Slovenia, and this is his fifth novel, but the first one that was translated into English and probably his most massive work so far.
Book Links
Website
Blog
Facebook
Amazon Author Page
Buy the Book
More Great Reads: