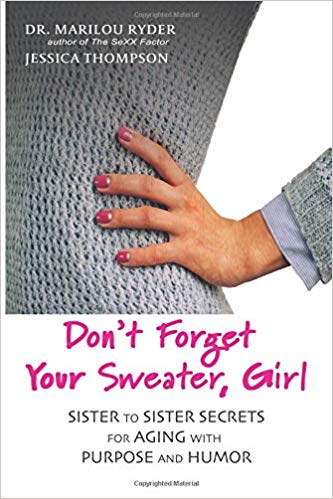 Don't Forget Your Sweater, Girl : Marilou Ryder and Jessica Thompson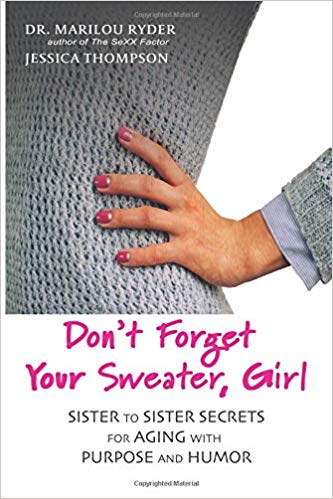 Sister to Sister Secrets for Aging with Purpose and Humor
Do you have questions and concerns about growing old as a woman? Do you ever scroll through Facebook and think you are the only person on earth not celebrating life? Do you want to know more about how you can age gracefully as a senior woman with a positive attitude?
WELL AT LAST- Meet the NEW AMBASSADORS OF AGING in a new book that demystifies ageism and delves into the heart and soul of senior women living the Good Life!
Don't Forget Your Sweater, Girl is a labor of love between two sisters; Jessica, age 62 living on the East Coast near Boston, and Marilou, 70 on the West Coast in Southern California. Together, they reached out to women ages 60 and over including two 100-year old women and asked them to share their hopes and dreams for the future and what makes them happy, motivated and relevant as they kick up their heels in response to the side effects of aging.
As women growing older contending with ageism, misogyny, and loss they disclose their secrets for staying positive, managing money, making friends, and staying physically and cognitively active. They also share personal secrets for how they Navigate Each Decade with Optimism and Grace.
The women reached out to for this book are THE NEW AMBASSADORS OF AGING; vibrant, positive and determined to live a good life while aging without boundaries.
Don't Forget Your Sweater INCLUDES:
A dozen UP CLOSE AND PERSONAL Interviews (from women ages 60-100)
A collection of WISE WOMEN TIPS (Is There a Woman Doctor in the House?)
Intriguing DAY IN THE LIFE calendars that showcase an average senior women's daily routine
Lively and spirited WOMENTOONS that encourage us to laugh at ourselves
Women truly exist in a circle of togetherness. We are bonded by the same existence of being born female and all desire a life filled with family, friends, good health, happiness and an individual package of personal wealth. We want to live pain-free and in the moment.
Don't Forget Your Sweater brings a sense of peace in that we are all sisters throughout this journey and that WE ARE NOT ALONE!
Book Links
Facebook
Instagram
Linkedin (Marylou Ryder)
Amazon Author Page (Jessica Thompson)
On Amazon
More Great Reads: