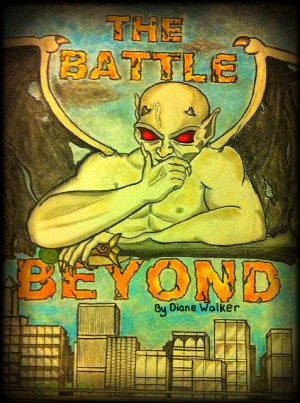 The Battle Beyond : Diane Walker
The Battle Beyond
Tom and Hannah Stevens had no idea what they were up against when Tom took the position as research analyst on a major government project.
The risks this project posed kept mounting as his research continued. Tom knew that his findings were not what Jack Atler, the president's right hand man, wanted to hear. Deimos was keeping a close eye on Tom from the shadows.  He couldn't get too close.
Tom was under Andros' protection. Everywhere Tom went those white wings flashed across the road ahead of him watching his every step. All Deimos could do was hide in the shadows and report what he saw to his master. What was it about this particular project that drew the attention of these warriors? Jack knew the dangers this project posed. He was there when a similar project failed miserably in Russia.
Failure was inevitable. That's what he was counting on. He knew that the failure of this project would leave the President looking like a hero when he came to the rescue of the people. Somaron and Wolfore had whispered in his ear time and again what a hero he'd be. He would be the one that made this buffoon of a man look like a shining star. Tom Stevens was Jack's only roadblock. At least that was what he thought. Jack failed to see the battle that was going on in the shadows beyond the world he knew. He didn't see the blackness that the shadows hid from his sight. He failed to see the glints of life that flashed in the light.
A great battle was brewing beyond what he could see. It was a battle that would decide the fate of the world and no matter which way it fell; Jack's world would never be the same.
Book Links
Website
Facebook
Twitter
Goodreads
Amazon Author Page
On Amazon
More Great Reads: