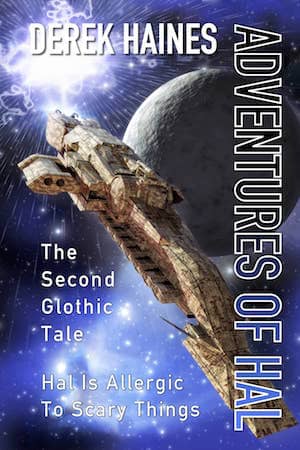 The Adventures of HAL : Derek Haines
The Adventures of HAL
The second book in The Glothic Tales Trilogy.
Have you noticed that when you meet someone for the first time, your immediate reaction is to make an instant like or dislike decision? This is how it felt for me when I met HAL. Albeit that he was English, extremely tall, clumsy and had a serious allergic problem, he just seemed like a nice young man. From the moment he entered my mind, I couldn't help but like him.
Now it's worth noting that although a likeable young fellow, he does have a nose for trouble. That is, he can't seem to keep his nose out of it. From the moment he left the grey shores of England for the sun soaked beaches of Australia, and in particular, Queensland beaches, HAL found it all to easy make friends, drink XXXX beer, cook barbecues, even go on a date, as well as get himself into all sorts of trouble and strife. His upbringing however, gave him the dignity and grace not to complain too loudly when unfortunate happenings or disasters struck. Stiff upper lip, grin and bear it and get on with life being his approach.
So, enough said. Keep an eye out for my new friend HAL, and if you do happen to run into him one day, maybe you could invite him to your place for fun evening around the barbecue.
Camera Stellata – The Adventures of Hal 
Millions of years before February The Fifth, Gloth was making a nice little profit from the planet Erde, with the help of some cunning Popes and the very, very secret Camera Stellata, sometimes better known as the Star Chamber.
Being disowned by his father and booted out of his family manor in England, then transported off to the distant sun drenched shores of Australia didn't sound like such a bad punishment for Hal. All things considered. Sydney however, didn't prove to be his cup of tea, but a quick move to Brisbane leads Hal to a wonderful new life full of friends, back yards, barbecues, beer, surfing, The Breakfast Creek Hotel and Narelle.
The idyllic life.
For a short time unfortunately as so often happens, just when you think things are beautifully perfect, someone or something comes along to throw a spanner in the works. In Hal's case, his idyllic life gets hit my a number of airborne wrenches. Then when he thinks things are are about as bad as they can get, they of course get a whole lot worse.
Afflicted by an allergic reaction to dust and scary things, Hal does a lot of sneezing as he goes about trying to make the whole lot worse a whole lot better.
Review:  "Yikes Derek, have you completely lost your senses man! Hal becomes a member of the Camera Stellata? Surely you jest! Never was there a more unlikely candidate for great things than the bumbling, gangly, accident prone Halbert Hoop.
To console myself from the shock of this ghastly revelation, I turn your attention and mine to the extremely important subject of Glothic cuisine.
Turdling Hurdles for breakfast – simply delicious
Onglets of Tirdd and Yuretha Jus – pure heaven on a plate
Begrogrol fillets – totally divine
Whole poached Winkie Flyers, stuffed with fresh Krinquelain Faeces and a salad of Viddiam Lymph Glands – oh be still my beating heart
All of the above served with a glass or two of Fozzoxly, the Glothic equivalent of pure nectar.
Sadly the contents of the menu above are simply too good for the likes of common Erdeans such as you and I. Before you think I have totally gone mad, why not read "HAL" for yourself. This hilarious sequel to "February the Fifth" shows Derek Haines at his absolute best.
Simply brilliant Derek, well done…"
Book Links
Website
Facebook
Twitter
Amazon Author Page
On Amazon

Other Book Stores
More Great Reads: