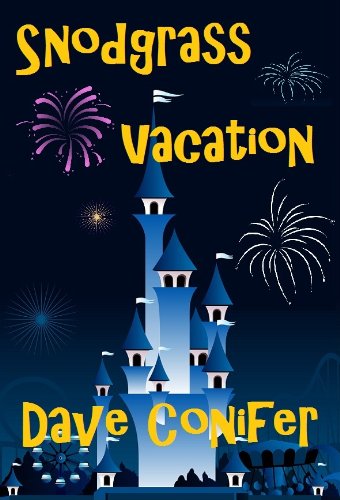 Snodgrass Vacation : Dave Conifer
Snodgrass Vacation
Dave Jevik wasn't too happy to hear that his wife had scheduled a family vacation to Snodgrass World Resort with the Zandanels. Loudmouth Vinnie is hard to put up with for an hour, let alone a week. But when Vinnie spots wheelchair-bound George Van Morrison in first class on the flight to Florida, the dreaded trip takes on a sense of purpose.
Van Morrison claims he was injured at a restaurant owned by Dave's friend back home and the lawsuit has already been filed. Dave and Vinnie just know he's faking it and they have a week at Snodgrass World to save the restaurant by proving it. They'll have to dodge fleets of wheel chairs and scooters long enough to expose him.
Vinnie's sharp-elbowed wife is indispensable as she leads the way past line-cutters, other people's obnoxious children and the maniac driving the scooter with the on-board colostomy bag. When they befriend a crotchety bartender back at the hotel Dave and Vinnie unexpectedly tap an inside source that just might help them get their man.
Anybody who's ever taken a trip to Orlando will recognize what they read about in Snodgrass Vacation, a politically incorrect satire of theme park life.
Book Links
Website
Facebook
Twitter
Amazon Author Page
On Amazon
More Great Reads: