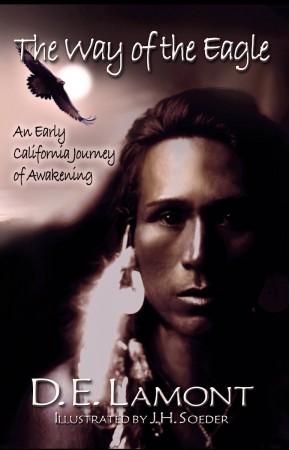 In this tale set in the world of a nearly extinct American Indian tribe which prospered thousands of years before that same locale became Los Angeles, a young Tongva brave, Tacu (whose name means "comet"), struggles to understand and survive the baffling, often dangerous tasks assigned to him by Takoda, his mysterious mentor from a distant northern tribe.
Until he does so successfully, he won't be allowed to travel to the village at the Place of the Stones to undergo his vision quest and formal initiation into manhood. Yet only by doing so can he earn back the respect of his peers and court the maiden he loves, for he is now shunned by the village as a despicable coward.
But Tacu is being held to a different and difficult path by Takoda. He must go through harrowing life lessons and paranormal experiences to prepare him to face his future courageously and with honor, and help him to recognize his own spirituality. Tacu never imagines the crucial impact these teachings will have on him or how dramatically his life will change before his journey to manhood is complete.
A thoughtful and moving addition to the treasure trove of inspirational stories about America's First People. Honored as a Silver Medal Finalist, Novella category, 2012 Next Generation Indie Book Awards; Finalist, Cross-Genre Fiction, 2012 National Indie Excellence Book Awards; and Finalist, Visionary Fiction, USA "Best Books 2011." Illustrated softcover and illustrated Kindle versions.
"The spiritual tale of a young Native American from the days before the Spanish arrived in California…. There is hardly a word out of place … what is most commendable is the precision and unpretentiousness of the prose while still managing to invoke the intense quality of Tacu's visionary quest and moving nature of his movement." —Kirkus Reviews
Book Links
Goodreads
Amazon Author Page
On Amazon
The Way of the Eagle : D.E. Lamont