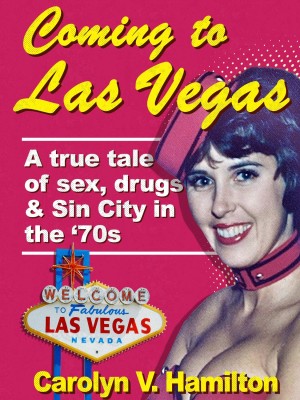 Coming to Las Vegas : Carolyn V. Hamilton
Coming to Las Vegas, A true tale of sex, drugs & Sin City in the '70s
In 1973 graphic designer Carolyn Hamilton comes from Los Angeles to the little desert town of Las Vegas with boyfriend Del to join the business side of the newly-formed Las Vegas International Circus. Del will be their general manager and Carolyn will handle advance publicity. They look forward to an adventurous life on the road in both the United States and Central America.
The circus business takes longer than anticipated to be ready to travel, and Carolyn and Del are not being paid. Inevitably they run out of money.
Carolyn gets a job as a cocktail waitress in the soon-to-open MGM Grand Hotel/Casino. She's not impressed with this desert town and wants to make just enough money to get back to L.A.
Through DEA connections and nefarious means, Del gets the position as bailiff for District Court Judge Paul Goldman.
The circus finally goes to Central America without them. This turns out to be fortunate because when the owner insults a foreign government official, all equipment is confiscated and everyone is jailed and ultimately deported to their birth countries.
Carolyn and Del marry, but when Del's ex-wife surfaces he is revealed as a bigamist. Good to have a District Court Judge to fix this new challenge.
Working cocktails at the MGM turns out to be more colorful than a nice Lutheran girl from Seattle would think: rumors, parties, stealing, sex, drinking and drugs are the main entertainment for a bored crew of cocktail waitresses, bartenders, dealers and floormen.
Carolyn faces a personal challenge when she becomes pregnant. Del, who is 16 years older, does not want children and thinks abortion is still illegal. Carolyn has her own secret reason for wanting the abortion.
Some cocktail waitresses date culinary union bosses, who have their own high drama of payoffs, fights for control, fire bombings and an 18-day culinary union strike that cripples Las Vegas.
Hailing from a loyal Teamster's Union family (her father was a laundry delivery driver in Seattle), Carolyn gets surprising and revealing insight into union operations.
After a drunken ménage a quatre with two other waitresses and a casino floorman, Carolyn decides this is not the kind of life she wants for herself. After three years of glitz and glamour and earning gobs of money, she leaves the MGM to rediscover her personal values and her commitment to her marriage.
Each story told in this memoir—of the Martin Scorsese "Casino" era of Las Vegas—is true, and many are humorous as well as outrageous.
Book Links
Website
Twitter
Goodreads
Amazon Author
On Amazon
More Great Reads: