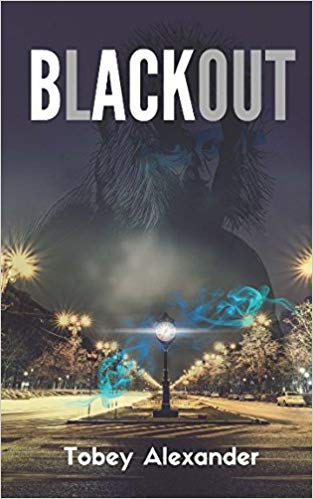 Blackout : Tobey Alexander
Blackout
Time is the only constant, we may dwell on the past, but there is nothing we can do to change it. Or is there? Blackout offers a new perspective with the knowledge that there are those among us who have the ability to make leaps back in time. Such a gift comes with a price and Blackout offers an action-packed and character-driven sci-fi adventure that rips you from your seat and thrusts you into a fantastic journey.
Michael Swann is alone, it hasn't always been this way, but he is haunted by the tragic accident that claimed the life of his teenage son. Since the loss of his son Swann's marriage has fallen apart and he has become a solitary man, enjoying his time in the mountains and wilderness over everything else.
One fateful day while climbing on the dangerous cliffs of Kalymnos, Greece, Swann stumbles upon a mysterious woman that seemingly appears from nowhere. As he attempts to speak with her Swann suddenly finds himself stood in the middle of a First World War battlefield. Awash with confusion and disbelief Swann struggles to understand what is happening and blacks out.
When Swann awakes, he finds himself in the confines of a converted underground reservoir overseen by General Cole, a stern military officer who runs a secret internationally funded project named Operation Tempus. As Swann learns he is blessed, or cursed, with a dormant ability to leap through time he must choose whether to embrace his gift or turn his back and leave it as a gift unexplored.
When the time comes would you go back?
Book Links
Website
Facebook
Twitter
Amazon Author Page
On Amazon
More Great Reads: