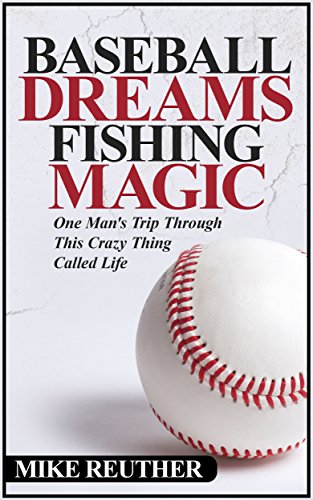 Baseball Dreams, Fishing Magic : Mike Reuther
Baseball Dreams, Fishing Magic
A baseball player, a fisherman – a young man looking for answers.
Perhaps no pursuits stir the passions of dreamers and poets like baseball and fly fishing. For Nick Grimes, a small town kid with big dreams, these two pastimes and sports are more than pursuits of the soul, they are means to an end. Or so he thinks.
We first see Grimes as a talented pitcher and a cocksure young man with his sights firmly set on a Major League baseball career. With his blazing fastball he uses to zip past hitters, his destiny as a big league ballplayer seems inevitable. He's barely out of high school when he signs a professional contract to pitch for the Detroit Tigers organization. But when the minor leagues prove to be tougher than what he bargained for, he finds himself out of baseball and learning life's hard lessons.
Whether fishing for trout in the mountains of Pennsylvania or learning about love, Grimes is a young man chasing happiness, his place in the world. He's a man who must live life on his own terms, but does he know what he really wants?
Rejecting conventional jobs, Grimes embarks on a different life, that of a fishing guide. But he'll find happiness to be an elusive creature, and the people he meets along his remarkable life journey will teach him some of its most valuable lessons.
There's the woman writer with her own dreams, her own ambitions, who captures Grimes' heart. His father, who gave up his own dreams to remain a factory worker, and a pitching coach who sees something special in Grimes, urge him to take second chances. But perhaps the most unforgettable character is Sir Jon, a mysterious fly fisherman leading a Thoreau-like existence in the mountains, who offers him life's most important lesson. His brief encounters with Sir Jon are wake-up calls for the young man, and will provide readers with some of the most unforgettable moments of this remarkable story.
Nick Grimes will learn all about love and sex, death, despair and dashed dreams, but perhaps most of all, hope and rejuvenation.
With echoes of A River Runs Through It and The Rookie, this short novel by Mike Reuther goes beyond the coming-of-age story and will have readers cheering, perhaps shedding a tear or two. Baseball Dreams, Fishing Magic is the story of a young man chasing the American dream on baseball fields, on trout streams, in bar rooms. More than just another baseball book, it's a fishing tale, a love story – a romance of the soul.
Book Links
Website
Facebook
Twitter
Amazon Author Page
On Amazon
More Great Reads: