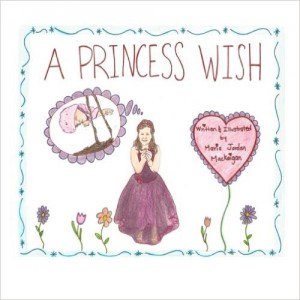 A Princess Wish : Maria Jordan MacKeigan
A Princess Wish
A Princess Wish is a story about a girl who longs for a sister by her side. She dreams of a forever friend to play with and enjoy everyday moments with.
An endearing story about wishes coming true in unexpected ways.
When the little princess finally comes along she has something a little extra. The big sister excitedly runs to meet the new baby and examines her all around, announcing that she is indeed perfect.
The moral of the story is that sometimes we dream with expectations, but the outcomes though they may not be what we imagined, can lead to a new journey filled with excitement and happiness.
This book was inspired by my precious daughters. It is a true story in every way except for the fairytale part.
I am a mother of two lovely little ladies. Our youngest one living the beauty of Down syndrome. This diagnosis is just a little something extra. Sure it makes her different.
I wrote this book for every child, boy or girl, in hopes that every parent will openly and lovingly teach their children to love all those around us, whether the same or different. We all have something in common. We all have a heart, we all have feelings, we all want to be included, loved and respected.
More Great Reads: