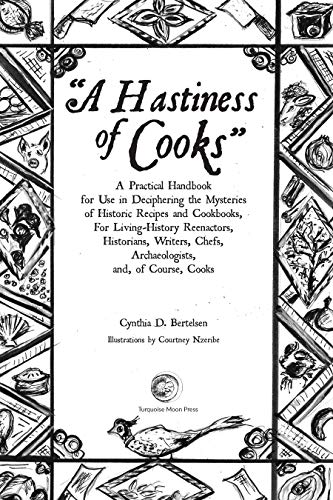 A Hastiness of Cooks : Cynthia D. Bertelsen


A Practical Handbook for Use in Deciphering the Mysteries of Historic Recipes and Cookbooks, For Living-History Reenactors, Historians, Writers, Chefs, Archaeologists, and, of Course, Cooks
A Hastiness of Cooks emphasizes the necessary steps in the process of recreating historic recipes for the modern table by:
analyzing the subtext of historical cookbooks, regardless of their culinary patrimony and time period;
deciphering archaic languages, such as Old English;
choosing the correct equipment and ingredients;
cooking with a wood fire on a hearth or three stones on the ground;
researching historical accuracy with various print and online resources.
In other words, A Hastiness of Cooks offers a key to the kitchens of the past. And readers will discover just how vast their culinary repertoire can become.
Book Links
Website
Blog
Facebook
Twitter
Amazon Author Page
On Amazon
More Great Reads: