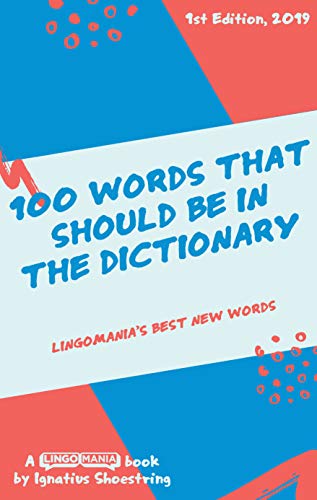 100 Words That Should be in the Dictionary: Lingomania's Best New Words : Ignatius Shoestring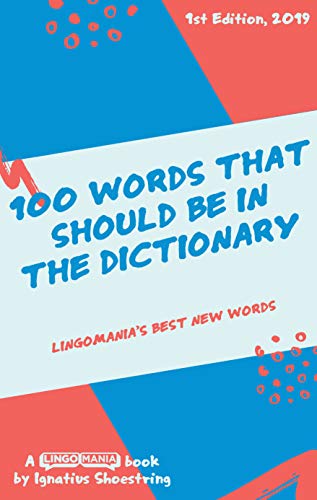 Lingomania's team of geniuses have scoured hundreds of new words in the Linogmania Dictionary for the BEST OF THE BEST! Your mission, should you choose to accept it, is to dig in and decide which words most deserve to be added to your vocabulary.
Join us on a journey to enjoy words that describe: The love of having a finger up your nose (especially in dry climates), The process of making up facts (important if you have a job in the government), A clever name for Russian hackers (try to decode this one, hackers!), talking in Star Wars quotes (remember, "Fear is the path to the dark side.") and, singing in the shower (no judgement here).
Along the way, you'll find out what a "Kimmick" is, why it's dangerous to "perirhinate", why you should avoid "tauroscat", and whether it's a "canophagocanic" world. Order this book now, and Ignatius Shoestring absolutely guarantees that you either will or will not:
Impress your boss,
Entertain your friends,
Slay your enemies,
Annoy your coworkers,
Out-nerd innocent bystanders.
However you wield this new weapon of words, owning this book will not be "prodigichronic" (a waste of time).
Review from Readers' Favorite: "The first inaugural book of its type, 100 Words That Should Be In The Dictionary: Lingomania's Best New Words is a collection of humorous pieces of wordy information written by author Ignatius Spud Shoestring. This is a dictionary-style record of the work of the Lingomania website, which is dedicated to the love of words and the emergence of new and amusing words which rate at PG or lower, and can therefore be used and enjoyed by all. In keeping with the website, the words have been invented as derivatives of previous words, and given dual or modified meanings to elevate them to the standard of Top 100 for this book. I found this to be a very entertaining read and I'm certain it would suit the coffee tables of writers, English teachers and word lovers everywhere. The term 'lingomaniac' itself suits the overall ethos of the tome, and its author, Ignatius Spud Shoestring, celebrates that badge with pride as each of the top one hundred words is treated to its own amusing definition and consideration. The book's interior is engaging and eye catching to look at, making it an easy pick-me-up for anyone seeking a little laugh. I also think it achieves the purpose of directing people to its website very well to discover more of these hilarious words and get involved in the submission and invention process. Overall, 100 Words That Should Be In The Dictionary is a humorous and well-arranged work for word lovers the world over."
Book Links
Website
Facebook
Twitter
Instagram
Amazon Author Page
On Amazon
More Great Reads: