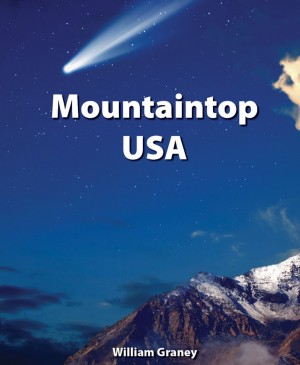 Mountaintop USA : William Graney
Mountaintop USA
As a comet is about to pass by Earth, the people of who live in Mountaintop learn that their location will be perfect for viewing the icy orb.
The quirky residents gather together with their telescopes to gaze at the comet and have a party.  To their surprise, the night will be illuminated by revelations.
The town of Mountaintop is populated with chess players, astronomy enthusiasts, runners, and donut lovers.
Roots run deep in the peculiar town and the stories from the past that helped to form the fabric of the chilly mountain community are shared through chapters that alternate with the America of the early 1990's.
A tangled web connects experiences from the past with life in the present and as relationships are explored, the town's undercurrents begin to bubble to the surface.
The Comet Terrapin serves as a purveyor of mystery that exposes The Mountain's darkest places and brings to light the beauty in those who have been unable to accept their gifts.
Staring into space and feeling the affects of the comet are a donut shop mystic, a Russian immigrant with a longing for her homeland, and a family that has suffered the devastating loss of their matriarch.
Everyone in attendance at the comet party will have an altered perspective after the passing.
Book Links
Website
Facebook
Twitter
Amazon Author Page
On Amazon
More Great Reads: