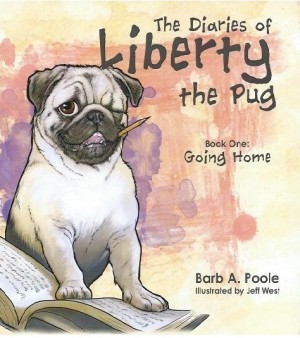 The Diaries of Liberty the Pug : Barb A Poole
The Diaries of Liberty the Pug Book One: Going Home
This is the true story of a little pug by the  name of Liberty (Libby). Libby was born in a puppy mill, sickly and alone. Libby was soon sent to a pet store to be sold. With her health problems she waited many months in a little glass case at the pet store before her day came to be loved and taken home. Libby's Mum and Daddy were thrilled to find her. At that time they were unaware of her poor health, but were soon to find out.
Libby finds out the world is not such a bad place after all when she realizes she now has a forever home. With health issues to overcome, Libby writes her diary with courage and humor. The story is real; the situations are real. I can assure you when you have pugs at home there is n ever a dull moment.
Lobby will take you on her journey and then interact with each young reader with questions and suggestions for the reader, making the world a better place for pets everywhere. This is the first of Libby's Diaries, with more stories to come. As the years go by, Libby first welcomes into her life a little black pug Ebony Rose in "Book Two"  and later, a fawn pug puppy whose name is Pippa in "Book Three".
This book will lead you into and let you peek at the life Libby adjusts to after surgeries on both her eyes and the challenges of going blind.
Libby's Diaries are uplifting. positive, brave and full of humor. I promise reading this book will give you a light heart and a smile on your face.
Book Links
Website
Amazon Author
On Amazon
More Great Reads: