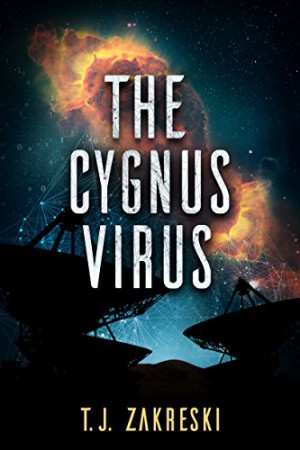 The Cygnus Virus : T.J. Zakreski
The Cygnus Virus
"In a story that's part William Gibson-style cyberthriller, part wacky comedy, the pendulum swings between an investigation of the human soul and off-color remarks …" – Kirkus Reviews
"A seriocomic novel that explores the possibilities of futuristic technology and the classic tropes of a mismatched duo." – Kirkus Reviews
"T.J. Zakreski's THE CYGNUS VIRUS is at times a very consciously literate and literary book, drawing its inspiration from such sources as Carl Jung, the rise of Nazism, and even the Tarot deck to string together its elaborate metaphorical schema." – IndieReader
"THE CYGNUS VIRUS is at times an exciting, very smart, and even sometimes very funny book, never talking down to the reader and moving at a breakneck pace." – IndieReader
Andron's life goes into full wtf mode when he accidentally downloads a space virus, after enrolling his old computer in a SETI-like program.
A virus that crashes the entire Internet. A virus that has a name. It's Cygnus, a foulmouthed digital pest, who was expelled from a dystopian planet Earth.
And it only gets worse.
Cygnus strong arms Andron into doing his dirty work. But, goes too far when someone winds up dead. That's when Andron discovers Cygnus' shocking plan.
A plan to hijack a human cloning trial using blood from a burial cloth, so that he can come back as Terra's Jesus.
Andron comes to the only conclusion he can. That he has to stop this psychopath.
But, how does he stop a digital god who's holding all the cards?
What if the only person who can help him, can't decide if she hates him, or just thinks he's nuts?
The birth's about to go down in Bathsheba and Andron's bringing a gun.
This is the story of rum, tarot cards, eternal recurrence and a Second Coming that you won't see coming.
More Great Reads: