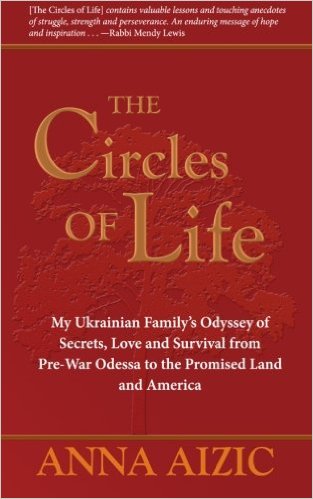 The Circles of Life : Anna Aizic
The Circles of Life : My Ukrainian Family's Odyssey of Secrets, Love and Survival
Anna Aizic's memoir in letters manages to transcend numerous potential hazards of the form to engage and enlighten her readers. While she initially put this collection together in order to pay homage to her loved ones and preserve for her children the history of their fascinating family, I believe she has also managed to produce an important historical document.
The personal accounts she includes of life during and after World War II in the stunning port city of Odessa, Ukraine, echo with her remarkable extended family's indefatigable hope and humor and, as Anna would say, love of Life. Yet they are mixed with the tragic realities of existence in a Communist system that had no tolerance for Jews who wished to escape its rule.
Anna Aizic's memoir follows her family's eventual yet imperfect escape to Israel, the ultimate goal as taught to all by her beloved Zeida in his secret Ulpan of the late 1960s and early 1970s. It also reveals how, despite a penchant for tragedy that seems to follow her family from Odessa to Israel and even to America, where Anna is eventually diagnosed with — and survives — metastatic breast cancer, the seemingly unbearable is somehow overcome due to her family's powerful legacy that includes not only hope and humor, but a willingness to acknowledge, savor and share its stories.
Book Links
Website
Facebook
Twitter
Linkedin
Amazon Author Page
On Amazon
More Great Reads: