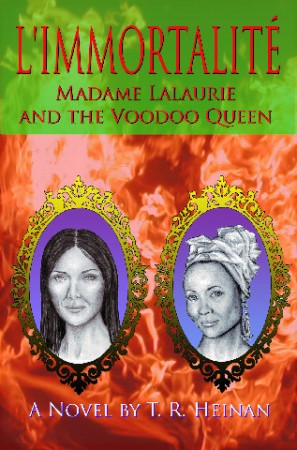 L'Immortalite : T.R. Heinan
L'Immortalite: Madame Lalaurie and the Voodoo Queen
By turns comedic and macabre, L'immortalité: Madame Lalaurie and the Voodoo Queen is an irreverent horror story drenched in the excess of its nineteenth century southern Louisiana landscape. It is based on the real life events of New Orleans' Lalaurie Mansion, involving an elite society woman and the barbaric treatment of her slaves. This novelization begins in the city's St. Louis Cathedral where lay sacristan Philippe Bertrand has become a recluse after the loss of his mother and wife. When a mysterious force upends his life and leads him to the shadowy mansion of Delphine Lalaurie, he meets Elise, a slave girl who has been brutalized by Delphine.
After the mansion matriarch demands that the mysterious Voodoo Queen Marie Laveau give her eternal fame, everything goes haywire. A child slave dies under questionable circumstances, spurring Elise to escape the mansion. Philippe and his extended family head to the gator-filled bayou where they hide Elise at Marie Laveau's cabin and secretly teach her to read and write.
When Marie reveals a new spin on the meaning of zombies, the once reluctant sacristan is determined to find out what really goes on at the Lalaurie Mansion. To his horror, he will discover that Delphine and her physician husband carry out repugnant medical experiments on their slaves, even as they put on a refined social façade during their well-attended society balls. Their monstrous private world may be exposed when a slave cook sets herself on fire, along with the mansion. Philippe must break the chains of his own conflicted spirituality as well as those that bind the slaves in the attic if he is to rescue the Lalauries' victims.
As the novel reaches its stunning climax, Philippe will come to understand the different paths people take in search of immortality.  A comedic meditation on what humans do to persist beyond their mortal lives, L'Immortalité is an inventive horror story that vividly brings to life the torrid landscape of old New Orleans.
Book Links
Blog
Youtube
Twitter
Amazon Author Page
On Amazon
More Great Reads: