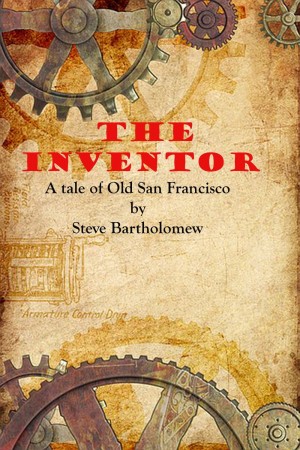 The Inventor – A Tale of Old San Francisco : Steve Bartholomew
The Inventor – A Tale of Old San Francisco
San Francisco, 1880: The city is already more than thirty years old, but she's still having growing pains.
There's corruption at City Hall, and riots in the street. The mayor's son is a murderer and Denis Kearney wants to burn down Chinatown, as well as the mansions on Nob Hill. Young Jeremy Fantom, reporter with the Evening Bulletin, finds himself in the midst of this chaos. He's thinking seriously of quitting his job and joining a circus, or going to sea.
That is, until he's assigned to cover the story of Worrell, inventor extraordinary. Is he a genius ahead of his time, or a humbug? And there's his beautiful daughter, Hollyhock, who has been kidnapped by forces unknown. Jeremy finds himself on a strange and winding path to enlightenment.
This book is one of a series of tales which take place at least partly in San Francisco, in the latter half of the nineteenth century. One of my other books, Journey to Rhyolite, stretches the envelope by playing out in Nevada in 1910.
None of my stories use the same characters, but most of them involve people who really lived in that time and place. Jeremy Fantom is fictitious, but he's a fellow who might well have lived. The inventor himself, Worrell, was inspired by another genius of his time who some readers may recognize.
San Francisco and the West of that century hold thousands of stories, legends, yarns and tales waiting to be told. In the end we discover that after all we have not changed that much.
Book Links
Website
Facebook
Twitter
Amazon Author Page
On Amazon
More Great Reads: