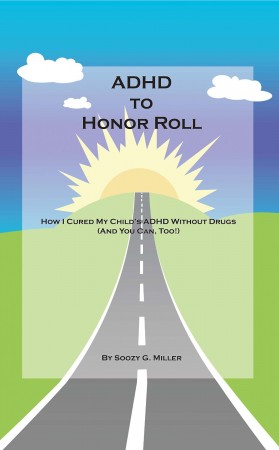 ADHD to Honor Roll : Soozy G. Miller
ADHD to Honor Roll: How I Cured My Child's ADHD Without Drugs (And You Can, Too!)
When my son was 6 years old, all the ADHD doctors and all the materials I read said there is no cure for ADHD. The thinking was that you can manage ADHD (like diabetes), but the child will always have it. Sometimes ADHD fades with age, but the child might carry ADHD through adulthood. There is nothing else you can do.
That is wrong. It is untrue about ADHD and other behavioral issues associated with children.
If your child has been diagnosed with ADHD or other behavioral challenges, or you simply sense that something is wrong, consider a route other than pharmaceuticals. Pharmaceuticals don't solve the problem; they only mask the issues. ADHD drug benefits are constantly debated and their toxicity and negative side effects are well known and well documented. Just read my history with them.
If you work with the right practitioner, and if you consider other factors such as environmental, emotional, physical, nutritional, and habitual influences, you will find the root of the problem. You can heal your child forever—naturally—without giving your child unnecessary and harmful medicine. Healing your child naturally will feel better and will result in long-term benefits.
My son went from having ADHD tantrums to succeeding as a High Honor Roll student. And we got him there the natural way, without drugs. You can, too!
Book Links
Facebook
Amazon Author
On Amazon
More Great Reads: