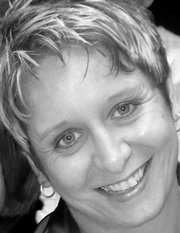 Saffina Desforges
Bio
I am Saffina Desforges, the 'loud half' of the international best-selling writing duo of Saffina Desforges and Mark Williams International, MWi.
Our first book, Sugar & Spice has sold close to 100,000 copies and is available on all ebook platforms.
Mark and myself (writing as Saffina Desforges)  live on opposite continents (him in West Africa and me in England) and together we have written (and started) many books! We exchange chapters by email and basically fly by the seat of our pants, seems to work  for us! In fact, we get on better that way!
We met on a popular writing forum and after a few chats, decided that we could work together. The rest, as they say, is history!
We have written crime thrillers, chick-lit and urban fantasy, we're even collaborating on a YA series at the moment with two fantastic, teen writers.
Having found it so hard to break into the American market, we decided to set up our own digital imprint and have no established an already successful digital publishing company known as MWiDP (Mark Williams International Digital Publishing). We are helping new and established authors from here and other countries get their books noticed here in the UK.
Welcome along!
List of published books
Sugar & Spice
Sugar & Spice (American edition)
Snow White (Book one of The Rose Red crime thriller series)