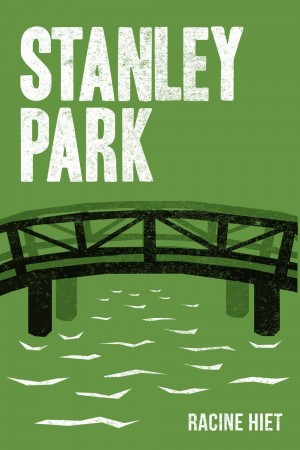 Stanley Park : Racine Hiet
Stanley Park
STANLEY PARK: "A Powerful Story of Haunted Passions and Irresistible Love!" Forced into a bloody crime by Ace, an isolated girl April buries her past and becomes Lily — until passionate love with Markus drives her to uncover dark secrets and free Ace's hold on her.
"Hiet skillfully introduces and intertwines her characters' lives and passions in a riveting tale of mystery, murder, deceptions, love discovered, love lost. Chronicling several lives from the 1930s to 1960s, Hiet writes energetically, evocatively. Her descriptions and use of metaphor give subtle insights into the characters (and make another writer envious).
Stanley Park becomes the symbol intertwined throughout the characters' lives. The park represents for them escape, renewal of self-nurturance, life-changing liaisons, and courageous revelations.
Stanley Park, a powerful thread, becomes the place of dreams proclaimed, true selves revealed, and ultimately freedom from their physical and psychological prisons.
In Stanley Park, Hiet faces head-on the abhorrent aspects of life, its physical and emotional cruelties, its disappointments, and its ability to bring out the worst in people. Yet, anchored always in the beauty and freshness of Stanley Park, with the major characters finally finding what they seek, her vision is one of hope and love."
Book Links
Website
Twitter
Youtube
Linkedin
Amazon Author Page
On Amazon
More Great Reads: