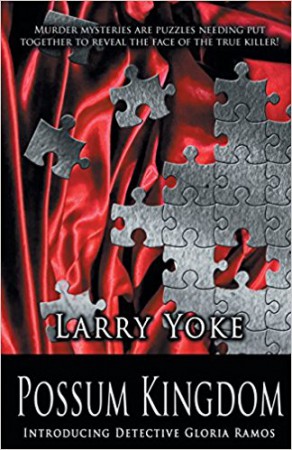 Possum Kingdom : Larry Yoke
Possum Kingdom
Fiction: Crime, murder mystery set at Possum Kingdom Lake in north Texas
Murders are mysteries much like puzzle pieces that need to be put together to reveal the face of the true killer. Possum Kingdom introduces Detectives, Gloria Ramos and David "Rocky" Brandel who follow a trail of puzzle pieces leading them to an international suspect. Just when they think they know who the killer is they discover another puzzling piece which suddenly gives them multiple suspects, but there is only one murderer.
A torso was found at the lake near the Shepard dam and David Brandel was given the case. Since the body was dismembered to the point where they could not identify the victim, it took CSI, The Medical Examiner's office, K-9 units, Scuba divers, and a book full of persistent investigation, from both detectives, to finally identify the victim, establish who the killer was among a host of suspects to finally bringing them to justice.
The story has international ties from Panama to Texas. It includes a billionaire shipping tycoon, his son, his lovely daughter, security officer, a local gang leader in Panama, Ralph Morgan and his wife, Melissa, Detectives David Brandel and Gloria Ramos and many law enforcement officers and their canine friends from various agencies in the Great state of Texas.
They all fight the elements and each other to get to the last puzzle piece of who the real killer was. Can you solve the puzzle before these two seasoned Detectives?
More Great Reads: