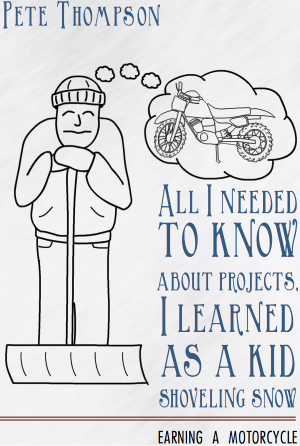 All I Needed to Know About Projects, I Learned As A Kid Shoveling Snow: Earning a Motorcycle
[ . . . ] it didn't matter, because one word, "sure" in the context of motorcycle ownership, gave Pete permission to buy one. All he had to do now was earn the money. [ . . . ] When Ms. Strickland answered the door she looked at the stoop and noticed that it had been shoveled.
Since they were both holding shovels, the first thing she said in a rhetorical tone was "Did you guys do that? Thank you" Before they could get a word out, she continued with "I guess you are here to shovel my drive! Or did you do that too and now you want your money" Without missing a beat, Mel replied, "Yup! Twenty bucks" In a scolding almost frantic tone she replied with, "Well I'm not paying.
"I have the lawn service under contract. Not very smart business boys. You can't just ask people to pay for a service they didn't request" Pete just stood there in shock when Mel said, "OK, we'll put it back" She paused for a moment with a look of horror on her face until she realized Mel was joking and started laughing.
She said "I'm sorry boys, but I'm already committed" Mel replied, "That's OK, we understand" As they were walking toward the next house, they heard Ms. Strickland's door open and she started yelling, "Boys? Boys? Wait" Mel and Pete exchanged glances wondering what now? "Come back! I changed my mind! You can shovel my drive Pete jokingly said to Mel, "It looks like we're both gonna make $20 on this drive since our price just doubled"
Book Links
Facebook
Twitter
Google+
Barnes & Noble
Amazon Author Page
On Amazon
Earning a Motorcycle : Pete Thompson