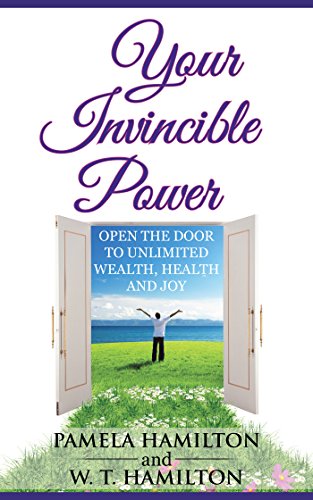 Your Invincible Power : Pamela Hamilton & W.T. Hamilton
Your Invincible Power: Open the door to Unlimited Wealth, Health and Joy
"The law of attraction works in our lives all of the time and has been written about in many books, giving us various views on the way we interpret this subject. Pamela Hamilton and W. T. Hamilton, who are mother and son, clearly write with different views. W. T. offers his ideas with a light humor attached to his life experiences and offers you inside depth to help you succeed in business as well as your personal goals. Pamela writes with more exploratory details and uses particular points from the inside info she has examined and learned on the way.
The differing approaches the authors present here complement each other's vision and opinion of this subject in ways that can bring you to the ultimate goal in your life successfully.
Within these pages you can find clear insight to change those distinguishable parts of you that get in your way. You can change your perspective and the way you think by using spot-on concepts, creative plans and ideas that can move you forward through your own desired intention.
W. T. and Pamela's wish is that you have fun with these ideas, because life is exciting."
Book Links
Website
Facebook
Twitter
On Amazon
More Great Reads: