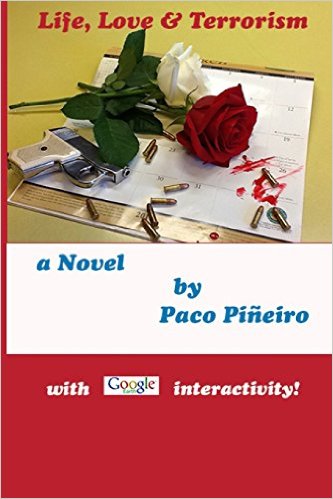 Life, Love & Terrorism : Paco Pineiro
Life, Love & Terrorism
This is a story of and for our present time, straight out of our evening newscasts. Its the story of an otherwise successful American man in his thirties, struggling to recover from a painful breakup with the woman of his dreams, suddenly finding himself at the center of a controversial scheme that could make him not only world famous but as historically significant and heroic as the first man who set foot on the moon.
However, this life-changing opportunity comes with great risk, not only because it is highly controversial but also because it is dangerous and could just as easily end his life. To make matters even more challenging, part of the price for this amazing opportunity involves becoming an agent for a mysterious and shadowy organization called Citizens for the Defense of America, that purportedly exists to defend the United States against its enemies. So, at a time in his life when he is most vulnerable and emotionally unstable, he must make a life-altering decision, without knowing how it all might affect his diminishing chances of a reconciliation with the love of his life.
Additionally, Life, Love & Terrorism is a ground-breaking novel that can, at over 75 points in the narrative, and through the use of Google Earth©, transport the reader to the exact place he or she is reading about, whether it's a romantic sidewalk cafe in Monaco, a chilling crime scene in Gibraltar or a relaxing flight over California's wine country.
By making use of our latest technology, this exciting fiction novel is taken to the next level, placing it somewhere between where novels have been for over a century and the film version of this novel, which may come at some point in the future.
Book Links
Blog
Twitter
Amazon Author Page
On Amazon
More Great Reads: