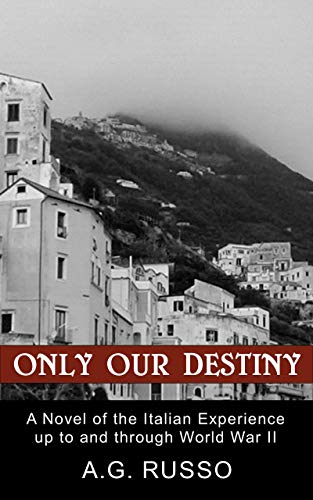 Only Our Destiny : A.G. Russo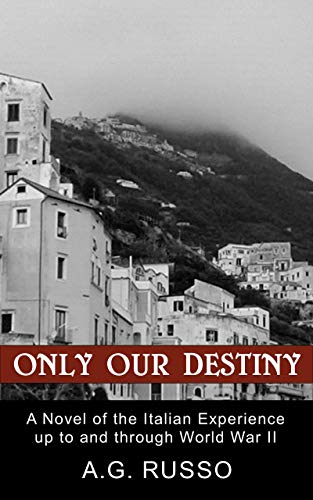 The Mezzogiorno (Southern Italy). Up to 85 percent of Italian Americans have their roots in this region. The story of the Coriello family begins in the fictional fishing village of Punto Roccioso along the Amalfi Coast. Alta Italia (Northern Italy) looks down on their southern countrymen as uneducated peasants. With limited opportunities available, many southern Italians dream of escaping poverty by leaving the land they love for a better life in America. But like all dreams, hardships, sacrifices, and realities intrude.
Having lived through World War I, the Spanish Flu, the dictatorship of Benito Mussolini, and racial laws, Raffaela must raise and feed her ten children without any help from her estranged abusive husband Giuseppe, who refuses to give her money. With the support of her two oldest children, Geno, and Luisa, she struggles to survive. World War II devastates Italy and Italian Americans alike when "Il Duce" joins Hitler's side, leaving Italians vulnerable at home and the object of hatred abroad. Young Italians are sent around the world to fight in a war they don't believe in. At home, Jewish families are under increasing threat. Yet, Italian men and women rebound to fight the Germans and Italian Fascists with a large and fervent partisan guerilla army.
Meanwhile, in America, Raffaela's young Uncle Corrado has struggles of his own. He vows to move from the tenements of New York's Little Italy, build a business, marry, bring over family members, and make good on his version of the American dream. But America is not so welcoming. Ignorance and prejudice reveal the ugliness of the immigrant experience as numbers of Italian Americans find themselves confined to internment camps during World War II.
Their courage and the ability to survive are a testament to the resilience of the Italian people who left their homeland with little else but a dream and changed America in the process.
(Caution: strong language, domestic violence, war violence.)
Book Links
Goodreads
Amazon Author Page
On Amazon
More Great Reads: