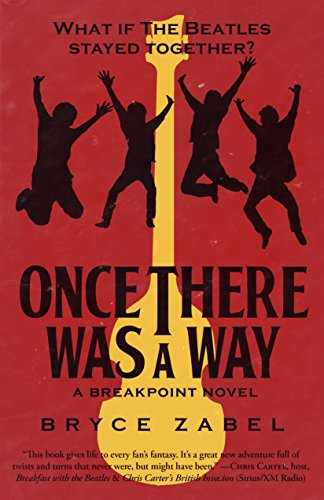 Once There Was a Way : Bryce Zabel
Once There Was a Way: What if the Beatles Stayed Together
For nearly fifty years now, music fans have lived with the reality that the Beatles called it quits in 1970, never to play together again. Even now, when most of us hear a solo song from one of the ex-Beatles, there's a wince of regret. What if John Lennon, Paul McCartney, George Harrison and Ringo Starr had taken that sad break-up song and made it better? It's the greatest what-if in rock-and-roll history.
From Diversion Books, Audible.com and Stellar Productions comes the new novel Once There Was a Way: What if The Beatles Stayed Together? It's a compelling, surprising and realistic account of how the Beatles might have saved their band from themselves, written by award-winning Hollywood writer/producer Bryce Zabel. His debut novel, Surrounded by Enemies: What if Kennedy Survived Dallas?, won the coveted Sidewise Award for Alternate History and launched the Breakpoint book series.
In Zabel's journey across the universe of alternate history, the four Beatles try to work it out rather than let it be, only to create new and completely unforeseen problems and opportunities. Even as they try to resolve their personal and creative differences, John, Paul, George and Ringo continue to make history, live new adventures and write a soundtrack for more generations to come.
The action spans the globe from Woodstock to Nigeria, weaving the Beatles into new stories that involve both Nixon's FBI and the radical Weather Underground. The who's who of characters includes Hunter Thompson, Johnny Carson, Muhammad Ali, Linda Ronstadt, the Hell's Angels, J.R.R. Tolkien, Ken Kesey, Stanley Kubrick and even Steve Jobs. And, of course, the hugely significant others; Linda, Yoko, Pattie and Maureen.
Imagine there was more. Lots more. It's easy if you try.
Book Links
Website (book)
Website (company)
Facebook
Twitter
Amazon Author Page
On Amazon
More Great Reads: