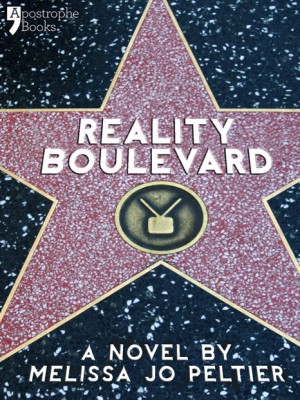 Reality Boulevard : Melissa Jo Peltier
Reality Boulevard
New York Times bestseller Melissa Jo Peltier turns her attention to the brilliant, back-stabbing world of prime-time television in this wickedly funny new novel.
Peltier has worked in entertainment for more than 20 years, making the darkly funny Reality Boulevard a true insider's view of Hollywood and some of America's biggest shows.
In it, we see Oscar-winning producer Marty Maltzman and his staff out of a job – and out on the streets – when long-running docu-series Lights and Sirens is unexpectedly axed. But the Hollywood the team now faces is full of Kardashians and Real Housewives, and they need to survive in a world where it's very hard to tell what's true and what isn't – both on and off screen.
Oscar and Emmy winning documentarian and veteran reality producer (Big Brother, Rescue 911) Arnold Shapiro called the novel "the best satirical look behind the scenes of reality television ever written", adding: "It contains more truth than you would believe."
Todd Milliner, producer of Grimm and Hot in Cleveland, said: "During her 20-plus years in the business, Melissa Jo Peltier had a front-row seat, watching it all unfold. In this novel, she puts her dry wit and storytelling ability to good use, pulling back the curtain to reveal what really goes on.
Entertainment writer Reel Life with Jane says: " Her characterizations and descriptions, in particular, are original and visceral, and the book is simply a fun and engaging read."
Kirkus Reviews declares Reality Boulevard "a zinging satire" and writes: "Can Marty trust the gorgeous, much younger actress Crimson Fennel, who's making a play for him? Can anyone trust anyone else in Hollywood? Peltier uses her insider knowledge of Los Angeles, the TV industry and its players… In this smart, funny, insightful novel, reality TV becomes all too real, forcing several characters to confront their decisions. Peltier examines the Hollywood world of writers, producers, rich kids, actors, wannabes and con men with a keen and often compassionate eye. A dead-on satire—with a heart—of the reality TV scene from a knowledgeable, witty insider."
Book LInks
Website
Goodreads
Twitter
Publisher
Amazon Author Page
On Amazon
More Great Reads: