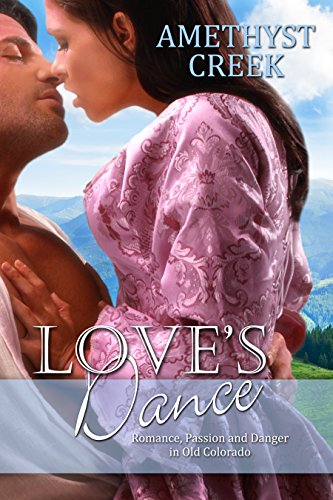 Love's Dance : Amethyst Creek
Love's Dance: Romance, Passion and Danger in Old Colorado
It is 1879 and Maggie Lenihan is interested in finding true love. At age twenty-one, she is the only child of a prominent family from New York City who stands to inherit a large fortune from her elderly father.
As her family's wealth is no secret, it is not surprising that she is besieged by young men beating a path to her door. But she has to wonder, are these potential suitors genuinely interested in her or are they perhaps motivated to pursue Maggie for her wealth?
These doubts persuade her to do the unconventional. To increase the chances of finding love, our heroine decides to move temporarily to a city where she is unknown.
With brazen determination, Maggie moves to the young city of Denver, The Queen City of the Plains, where she assumes the role of 'stringer' for a ladies magazine.
The plan is a reasonable one as Maggie succeeds in meeting a number of eligible young men including the handsome cowboy, Garret Blackstone. But she soon finds herself flirting with trouble when an unexpected event places her in mortal danger.
Will a sinister outlaw be unmasked before it is too late? Will Maggie find true love?
Book Links
Facebook
Goodreads
Amazon Author Page
On Amazon
More Great Reads: