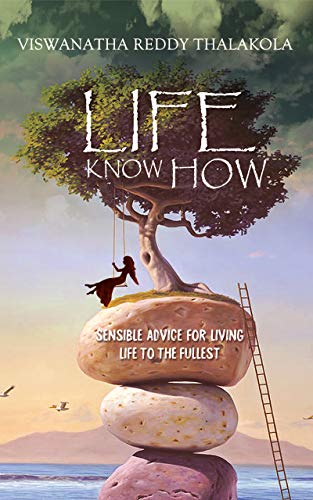 Life Know-How : Viswanatha Reddy Thalakola
Life Know-How: Sensible Advice to Live Life to the Fullest
Life know-how is the self-help book for adults (ages 18-35 years) who like to actively deal with the life's problems, challenges and disappointments and want to live life to the fullest. The aim is to prepare them to deal with the curve balls that life invariably throws at all of us. Equip yourself with coping strategies for many life issues!
Irrespective of your nationality, religion, race, profession or gender; the problems of life are about the same across the board.
Living a good life requires everyone to solve life problems, manage interpersonal relations, handle career, make big decisions rationally, cope up with negative emotions, and work towards fulfilling aspirations.
It is useful to have sensible advice to deal with all these activities. In a very candid how-to guide, the author serves up 34 chapters that help you to:
Accept the problems. Take responsibility and solve them.
Manage interpersonal relationships with friends, your life partner and people in general.
Handle your career, time and work-related stress.
Cope up with negative things like anger, depression, failures, hatred, mistakes, rejection, self-doubt and unhappiness.
Work towards achieving your desires and goals.
Deal with criticism, important decisions, money and more…
By the end of the book, you will be armed with tips and techniques to face life's challenges. Get many years of experience with a few hours of study by picking up this book. Keep it as quick reference and use it in many situations in life.
Live a happy life!
Book Links
Twitter
Goodreads
Amazon Author Page
On Amazon
More Great Reads: