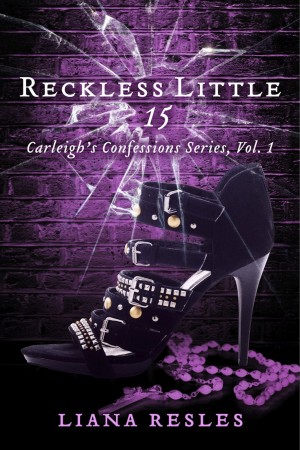 Reckless Little 15 : Liana Resles
Reckless Little 15
When Carleigh DuMetz turns fifteen, she quickly joins her mischievous friends in seemingly innocent adventures, which brings to light her naïveté. Always wanting to be one of the crowd, Carleigh tries to grow up fast so she'll fit in. She finds her first love in Aiken Lyons, a handsome young man from her neighborhood, who watched Carleigh grow into a beautiful young woman. The only problem is that his eighteenth birthday is the day after Aiken and Carleigh's first date.  If she wants to keep seeing him, they'll have to keep their relationship a secret.
After Aiken goes on a mission trip to Africa, Carleigh is savagely dragged into the darker side of the adult world by Richard-Aiken's friend who just so happens to be a power-hungry, control freak. Richard seems to spend all of his free time stalking and blackmailing Carleigh, and she lashes out in an attempt to free herself from him. Instead, she finds herself completely trapped.  For the first time in her life, she attempts to defend herself; but finds that there is still so much she needs to learn-and quick!
"Reckless Little 15" will take you into the tortured existence of a somewhat innocent adolescent girl who wants to experience the more exciting side of life, but rapidly finds herself on a collision course with disaster. It contains mature content, strong language, and painfully graphic details.
This is an excellent example of a teenager out of control. It should be taken as a warning to parents and young people of the dangers inherent in growing up too fast and keeping secrets from those who can truly help them avoid trouble.
Book Links
Barnes & Noble
iBooks
Kobo
On Amazon
More Great Reads: