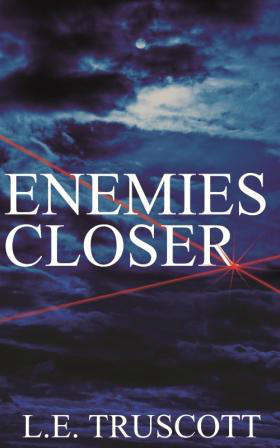 Enemies Closer : L.E. Truscott
Enemies Closer
Hell hath no fury like a weapons expert scorned.
L.E. Truscott's action-packed debut novel, Enemies Closer, follows Cassandra Broderick, a former US Marine now working in the weapons industry, and Antonia Parker, the CIA Agent who thinks she could be the key to breaking open her latest case.
They have two things in common: they're both about to have their hearts broken and their lives turned upside down. After an event attended by some of Washington DC's most powerful figures in the military industrial complex, Cassandra and Antonia awake from having their drinks spiked to a room full of dead bodies.
Someone is setting them up – for murder and espionage – and it doesn't take long before they are at the top of everybody's most wanted list: FBI, CIA, US military, Chinese military, deadly assassins.
To clear their names, Cassandra and Antonia must trust each other on a journey that will take them from Washington, D.C. to Beijing. And together they will find out that it pays to keep your friends close and your enemies closer.
L.E. Truscott is an Australian author better known to her friends and family as Louise. The Cassandra Syndrome, the sequel to Enemies Closer, is due for release in late 2013.
What readers are saying:
"Couldn't put it down. I want a sequel now!"
"Intriguing and compelling…lead characters are strong, sassy… four stars"
"A good first read for the genre…four stars"
"Engrossed…five stars"
Book Links
Blog
Twitter
Barnes & Noble
Kobo
Smashwords
Amazon Author Page
On Amazon
More Great Reads: