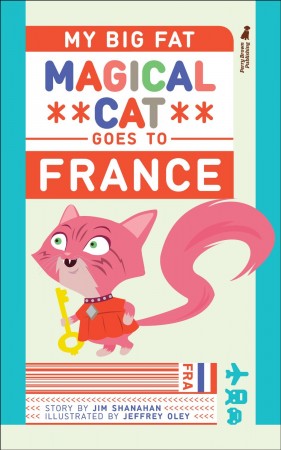 My Big Fat Magical Cat Goes To France : Jim Shanahan
My Big Fat Magical Cat Goes To France
Perry Brown Publishing is delighted to announce the launch of the "My Big, Fat Magical Cat" series of children's travel books. The first book, "My Big, Fat Magical Cat Goes to France" is available on Amazon through the Kindle bookstore.
A cheeky magical cat, a clued-up eight-year-old girl and a tail-swishing ride through the sights, sounds and flavours of France: the first release in a new children's travel ebook series, My Big, Fat Magical Cat Goes to France, brings much light-heartedness to the genre of travel book.
Follow the adventures of Jasmine and Lola as they visit Paris, Marseille, Toulouse, Lyon, Strasbourg, Bordeaux and Nice, and learn about French cuisine, music, literature, art and architecture along the way.
Written in a light-hearted style that sees travel through the eyes of a child, the book is a first release from Sydney author, Jim Shanahan. Current travel photos and original illustrations, by Sydney-based graphic artist Jeffrey Oley, bring the story to life for younger readers.
The series is an initiative by independent publisher Perry Brown Publishing, and is aimed at children aged 6 to 10. The next book in the series will be "My Big, Fat Magical Cat Goes to Italy". Future editions will feature Germany and Spain.
Book Links
Facebook
Twitter
Google+
Amazon Author Page
On Amazon
More Great Reads: