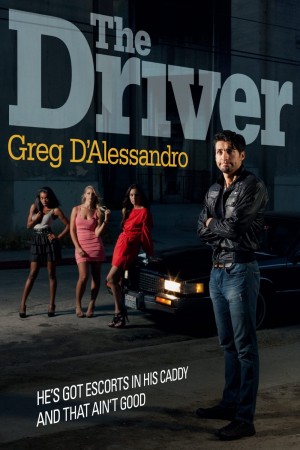 The Driver : Greg D'Alessandro
The Driver
THE DRIVER is a quirky comic novel centered on the author's real-life escapades escorting "dancers" as they make their nocturnal rounds in his faded Cadillac.
It is the debut novel of writer/comedian Greg D'Alessandro, who in addition to his felonious Hollywood loitering – has mesmerized mainland Chinese children in 40+ episodes of Zodiac Island, an animated/live action kids TV series he wrote and produced in a language he doesn't know.
THE DRIVER is an irreverent, non-PG-13 summer getaway that puts the reader in the shoes of an unlikely protagonist, as he awkwardly navigates the desires of Hollywood's glitterati and befriends a coterie of beautiful but idiosyncratic dancers.
The lead character, George Donato, is put to the test when the death of a recent dance patron locks him in a struggle to navigate while his moral compass batteries are low.
About the Author:
Besides his stint driving LA escorts, an occupation in which Brad Pitt preceded him, Greg D'Alessandro has worn many hats over the years. Originally from New York City (that's what they call N'ern New Jersey in New Jersey) sort of, he wrote seven produced plays for off and off-off Broadway. He also performed regularly as a stand-up comedian at Gotham Comedy Club, Catch A Rising Star and Stand-up NY and worked with comedy legend Danny Simon in L.A. He has won a number of screenwriting awards including the Jack Oakie Comedy Fellowship, the Gil Cates Screenwriting Award and the Jack Nicholson Award. His feature scripts, To Russia With Vinny and The Happy Divorce have both been optioned and are in development.
Greg is currently the Senior Editor for Weekly World News, the occasionally satirical online newspaper and is completing a play, Sex In The Suburbs, debuting in 2014. He was head writer and supervising producer for Zodiac Island in Shanghai. Greg holds dual MFA's in Screenwriting from USC and UCLA and is a member of the WGA, NARAS and of course, AAA. He is the proud owner of a valid driver's license.
Book Links
Website
CG Media
On Amazon
More Great Reads: