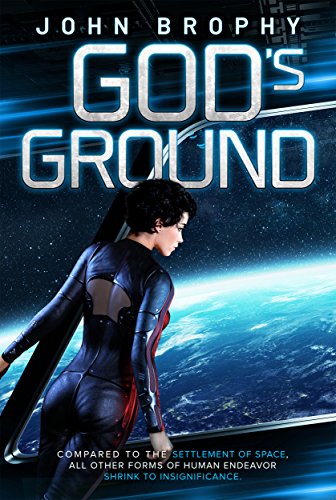 God's Ground : John R Brophy
God's Ground: Compared to the settlement of space, all other forms of human endeavor shrink to insignificance
At twenty-five years old Tesla Miller found herself working as an escort at the Sky City Resort and Casino where she lives with her six-month old son. It wasn't something she planned.
Fleeing from her violent husband, she escaped to the only place she knew he would never find them—space—plunging her and her son into a strange and fantastic world dominated by the absence of gravity. Sky City Resort and Casino was the latest entry in the fledgling space tourism industry and was equipped with all of the latest tourist attractions.
Careening between the considerable pleasures and significant consequences of a life without gravity, Tesla ultimately discovers two facts about life in microgravity that change the course of history and threaten the lives of everyone she cares about, including her own.
Selected Review Comments:
"A fun and gripping adventure in the microgravity of space, combining the wit of Andy Weir's The Martian with the sweeping vision of Neil Stephenson's Seveneves."
"Fresh, surprising and truly difficult to put down."
"Really fun and refreshing to read. Part of the fun is that it gets the science right – making it SCIENCE fiction, not science FANTASY."
"This book was so much fun for me. The author does a good job of describing the allure of space tourism."
"Loved the twisting suspenseful plot that is not too farfetched, the explanations and nuances of living in space, and the lessons in DNA biology, Newtonian mechanics, the bible quotes etc."
"An incredibly realistic vision of humankind's expansion into space. A future where we adapt to space instead of adapting space to us. In the end, it is a satisfying romp that leaves you with a lot to think about."
Book Links
Amazon Author Page
On Amazon
More Great Reads: