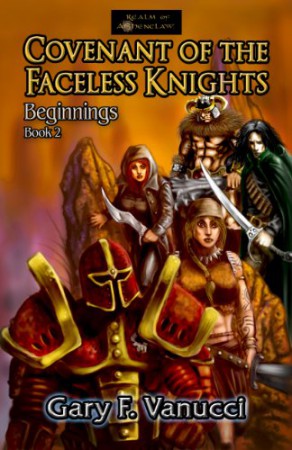 Covenant of the Faceless Knights : Gary F. Vanucci
Covenant of the Faceless Knights: Epic Fantasy Series Book 2 (Realm of Ashenclaw)

Covenant of the Faceless Knights is a classic tale of good vs. evil set in an epic and original fantasy world entitled the Realm of Ashenclaw.
When a dangerous artifact goes missing from a temple, the elderly high priest in charge eventually comes to the conclusion that he needs help. He requests aid in the form of a one-time apprentice, Garius, who is now an Inquisitor representing the Order of the Faceless Knights.
After a series of interviews, Garius sets out on his quest aided by Rose, a rogue among rogues, by the battle-hungry Saeunn, and by a naïve elf named Elec, who reluctantly agrees to accompany them at the behest of the persuasive Inquisitor.
The eclectic group then sets out to recover the artifact before it falls into the hands of the lich who once held it. Such is the Covenant of the Faceless Knights!
Book Links
Website
Twitter
Amazon Author Page
On Amazon
More Great Reads: