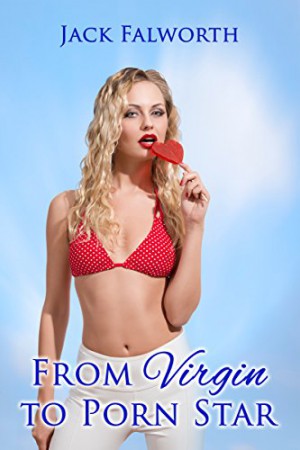 From Virgin to Porn Star : Jack Falworth
From Virgin to Porn Star
"From Virgin to Porn Star" is an erotic novel that describes the adventures of Holly Carson, an eighteen year old girl from a small town in the American mid-West, who is eager to lose her virginity.
After seducing her stepfather, she is thrown out of home by her mother. Holly then heads for Los Angeles where she finds work as a stripper in a night club. One of her clients is a rock star, Mickey Sharpe, who is friends with an X-rated film director, Max Mercurio.
Holly auditions for a role as a porn actress, and makes over a dozen X-rated films in her first year. She has only a small part in the first film, but her performance is so outstanding that Max Mercurio gives her the lead in his next film.
The second film is about a silent movie actress called Selena West, who is murdered in her Beverly Hills home at the height of her career. Selena's ghost haunts the house, having sex with anyone who happens to spend the night there.
The film is a big success, and at the Adult Film Magazine awards ceremony that year, Holly receives a total of three AFM awards—for Best Sex Scene, Best Porn Starlet and Best Porn Actress.
Holly is proud of her being America's top porn actress and has absolutely no regrets about the way she has achieved the American Dream!
Length of story is over 45,000 words.
Book links
Website
Amazon Author Page
On Amazon
More Great Reads: