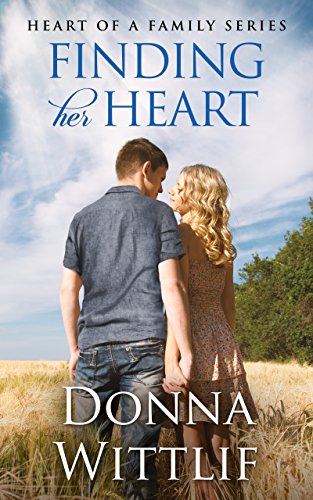 Finding Her Heart : Donna Wittlif
Finding Her Heart: A Christian Romance Novel (Heart of a Family Series)
Only true love can help Allison conquer Asperger's and loneliness. Can she find it? Small-town living can be peaceful—but it can also be heartbreakingly lonely. Nobody knows this better than teenaged Allison. Living in her secluded forest home with only her Uncle Deb, her Aunt Harriet, and a bevy of woodland creatures for company, Allison's world is a small one, and her recently diagnosed Asperger's Syndrome only makes it seem smaller.
People are a mystery to Allison. She understands her animal friends. She understands her paintings. And her family? They love her, but they don't understand her. They don't know what's going on inside her head. No one does.
That's why Allison knows she has to leave. She needs to find somewhere she can find her star, where she can meet people who understand what it's like to be Allison. Someplace where even she can find somebody to love, to share her life with. What she finds is David—David, whose kindness and blue eyes make her heart sing. David, who makes her world seem so much bigger. David, who says he loves her.
But does he? Or will a terrible secret concealed in this strange man's past dash her hopes of finding true love forever?
Book Links
Website
Facebook
Twitter
Bublish
Amazon Author Page
On Amazon
More Great Reads: