Descended : Ingrid J. Adams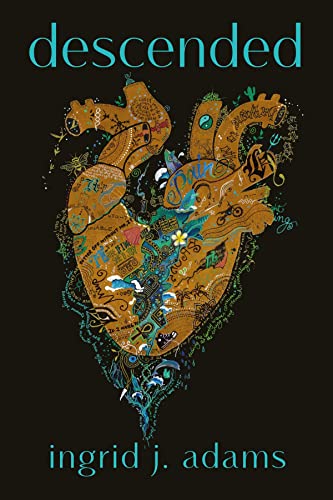 1990s SYDNEY.
A LOVE THAT SPANS LIFETIMES.
FOR SOME, THE MEMBRANE BETWEEN WORLDS IS STRETCHED
THIN…
Indigo Wolfe is that guy everybody wants to be or
be with. He lights up everyone he meets and he definitely knows how to have fun.

But he's barely holding on by a thread.
Because Indigo
isn't what he seems. He has secrets. And he's so often consumed — by the pain, by
the darkness, by all he can feel and hear and see that no one else can.
When he meets the ethereal Cordelia Carlisle, he's
hit with a sense of recognition that traverses lifetimes. He's welcomed into
her family, and as they grow closer he lets her see the parts of him he keeps
hidden.
The only thing he can't show her is she's everything
to him.
When they're torn apart, Indigo descends into
darkness, bombarded by that which is not of this world.
Why is he plagued by abilities others are not?
Indigo must choose whether to give up, or whether
to fight — for himself, for answers, and for Cordelia, the girl he seems
destined to love and to lose over and over, life after life… 
Unless this time, he can get it right.
Book Links
On Amazon
More Great Reads: