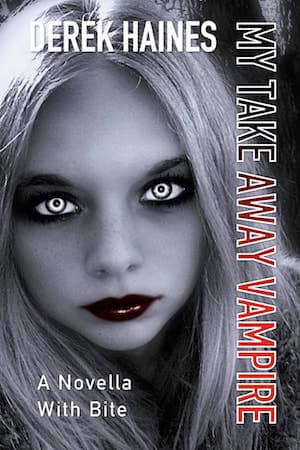 My Take Away Vampire : Derek Haines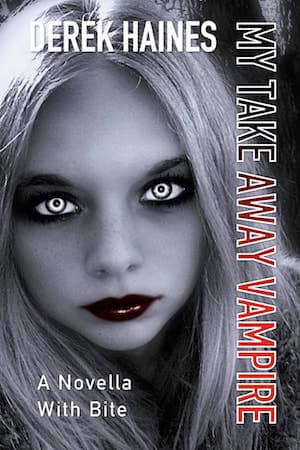 Although Agatha is over three hundred years old, it certainly doesn't mean that she can't adapt and fit into ugly post-industrial small-town suburbia. Partial to the delights that an evening at McDonald's often serve her, she waits at her favourite dimly lit corner table – for her kind of take away.
Being your typical urban vampire, this means that her fare isn't up in bright lights on the menu above the cashiers. However, she usually finds exactly what she is looking for. Her teenage beauty, long blonde hair and ice-blue eyes are a temptation very few can resist.
After a long and predictable vampiric existence, trouble is afoot for Agatha. Red- headed, freckled and just a little slow on the uptake sometimes, young Reggie stumbles into Agatha's predictability and turns it on its head.
Add the over-protective and rhyming ghost of a dead poet, a snarling black wolf, some cops and Agatha's preference for the 1980's fashion of mini-skirts, satin halter neck tops and knotted white blouses, things just may go awry.
Along with a couple of untimely and unfortunate deaths, and Reggie's complete misunderstanding of anything at all that's going on, the awry becomes a dead certainty.
Enjoy My Take Away Vampire. A very different yet tasty little vampire tale.
Review: T W Barton
"A short vampire story that shows vampire in a new light for the genre.
Agatha Grace is over 300 hundred years old. Stuck in her teenage body, she has learned to adapt and currently spends her time at her favorite modern hunting ground, McDonald's.
Finding a safe place to hide from the sun would seem like a challenge but not for Agatha. Her home is the cemetery where she woke up after being turned. She's not alone in there. It seems that the dead aren't as gone as we think.
Gang banger Reggie is a red-headed virgin desperate to hide after a tragedy changes his life. A chance meeting with Agatha will change everything he believed about the world. Reggie isn't exactly the sharpest knife in the drawer and doesn't appreciate the danger he's walking into.
Shortly after her run-in with Reggie, Agatha gets a visitor with news that she can't run from. Her graveyard companions have seen the signs before and know what's in store for Agatha as she faces the inevitable.
This was a funny little vampire story that has a different spin on the tale. If you're looking for a quick story and like the vampire genre and especially when it's of the lighter comical vain instead of the dark foreboding storylines most take then this is the book you're looking for."
New! Now available in audiobook on Audible and iTunes.
Book Links
Website
Twitter
Amazon Author Page
On Amazon
More Great Reads: