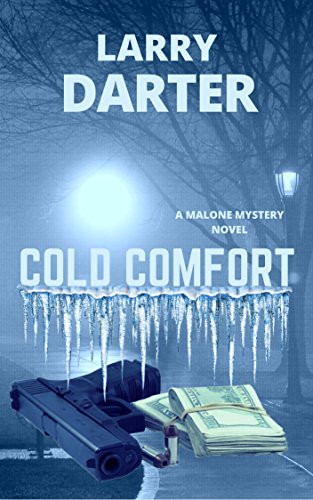 Cold Comfort : Larry Darter
Cold Comfort (The Malone Mystery Novels Book 3)
One of Hollywood's elites has been murdered, the accused her estranged husband. The situation doesn't look good for the husband, whose appetites for booze, gambling, and extramarital sex are as out-sized as his ego.
To make matters worse, he is on the hook to his bookie for a quarter million bucks, and with next to no alibi, multi-million reasons to kill his wealthy wife.
A knock on the office door of Los Angeles PI Ben Malone can only mean one thing, a new case. This time the visitor is a local defense attorney at Los Angeles law firm Ross & Logan , Liz Harper, with an interesting story to tell.
Harper's client, bad-boy actor Zack Sinclair, has been charged with the murder of his estranged wife, Holly Sutherland, one of Hollywood's most famous and popular actresses.
Harper believes her client is innocent, at least of the murder, and hires Malone to prove it before the case goes to trial. Malone starts investigating. The case quickly gets darker when he uncovers some ugly secrets.
Malone enters into a daring game of cat-and-mouse, a game he might not come out of alive.
More Great Reads: