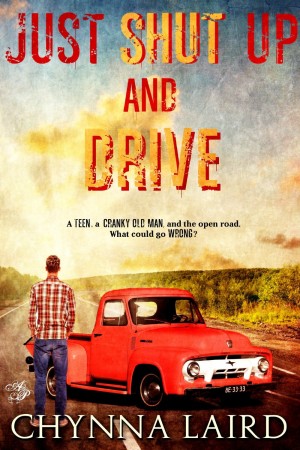 Just Shut Up And Drive : Chynna Laird
Just Shut Up And Drive
One teen, one cranky old man and the open road. What could go wrong?
Eighteen-year old Wil Carter can think of more than a fistful of things he'd rather do than go on a road trip with his ninety-five year old grandfather. But when Gramps Wilf barks an order, you listen or get an earful of grief.
Wil lost his parents in a horrible car accident when he was five. Gramps has been the only parent he has ever known. Now that he's ready to go off to college, the old man says he has things Wil needs to learn to be the man he's supposed to be. But the trip turns out to be more than he bargains for.
Along their week-long road trip across the Canadian Prairies, Wil not only learns tidbits about his own life, but realizes the grandfather he thought he knew has mysteries of his own. With each stop they make, a new layer of emotional truth is revealed…for each of them.
Will Gramps teach Wil what he needs to know before the journey ends? And is Wil strong enough to hear it?
Book Links
Website
Facebook
Twitter
Smashwords
Amazon Author Page
On Amazon
More Great Reads: