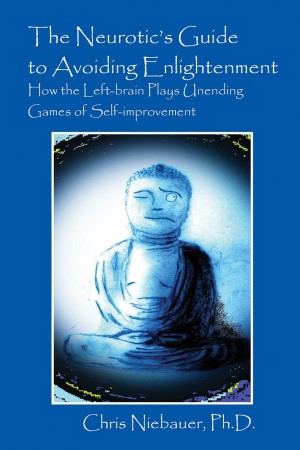 The Neurotic's Guide to Avoiding Enlightenment : Chris Niebauer, Ph.D.
The Neurotic's Guide to Avoiding Enlightenment: How the Left-Brain Plays Unending Games of Self-Improvement
More than ever people are on a quest for self-improvement and enlightenment.
People are "watching" their egos or losing their egos in order to find peace of mind or to get along better with others. And yet, the more we try to lose our ego, the more of it there is to lose. The more we try to make peace, the more we find conflict. It is exactly what happens when we try not to think of the number 3 and that is all we can think about. Our efforts seem to have the opposite effect, and this is due to the way the left side of the brain processes information.
Neuroscience discovered that the left brain makes up elaborate stories and convincing explanations. It is the left brain that makes up the most elaborate and convincing story of all, the story of who you think you are. And the more we try to get out of this story, the deeper we find ourselves in it because it is the function of the left brain to work on the law of opposition. Try not to be anxious, and that's exactly what happens.
Try not to worry, and you will be flooded with anxious thoughts. And the same is true for self-improvement. The more we try to improve our story, the more the story needs to be improved. The left brain excels at these games even when it plays by pretending not to play. If I said that all attempts at self-improvement are futile, how would you respond? Would you reflexively think I'm wrong? Is there any way not to play these games of the left brain? Which part of your brain do you think is asking this question?
This book was written for the ordinary person who has an extraordinary curiosity for who they are, how thoughts work and why they cannot control their thoughts. It is a practical guide that uses examples from my kids, favorite movies and TV shows from the 80s and 90s along with simple exercises so you can see for yourself if any of this is on track.
While no special knowledge of the neurosciences is required, you may understand many of the examples if you've seen an episode or two of Star Trek or Seinfeld. While this work is based on the teachings of Alan Watts and Eckhart Tolle it integrates the findings of modern neuroscience that surprisingly reveals a similar message. It is the desire for enlightenment that is the biggest block to happiness and peace, in fact; it is the only block. It is not until one gives up the quest to find oneself, improve oneself or be more spiritual that one can ever find the peace they are looking for. And it is not your ego that gives up this quest, it is you.
Book Links
Goodreads
On Amazon
More Great Reads: