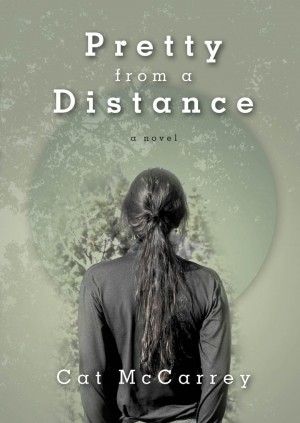 Pretty From A Distance : Cat McCarrey
Pretty From A Distance
In 1999, Glory Morgan is fast approaching her fortieth birthday. Her boyfriend Vince Cole controls every aspect of her life, but she remains bound to him because of his threats to harm her young niece.
As they travel the country year after year in a camper with no water or electricity, her despair continues to grow, as does her alcohol use…until Vince unexpectedly gives her the opportunity to choose their summer destination.
Emboldened, she picks a small town in New Mexico, a choice that will change the course of their lives dramatically. Encountering a vibrant community filled with eccentric characters including a Vietnam veteran, a psychic, and a man who had been abducted by UFOs, she finds herself falling in love with the local bartender Doug Baylor.
Inspired to assert herself, Glory slowly sees hope and joy return to her life and begins to stand up to Vince. As tensions escalate and Vince finds a lover of his own, a shocking event irrevocably changes their world forever.
Exploring the depths of abuse with compassion and honesty, McCarrey's debut novel is an intense, warmhearted, suspenseful story about the redemptive power of love and community.
McCarrey deftly exposes the wounds of the past as these experiences play themselves out in our lives in a relentless pattern of symmetry—until one seizes the power to actively change them. Wondrous, evocative, and full of inspiration, Pretty From A Distance is a deeply moving passage into the lives of people caught in an interweaving dance of dependency and control.
Book Links
Goodreads
Amazon Author Page
On Amazon
More Great Reads: