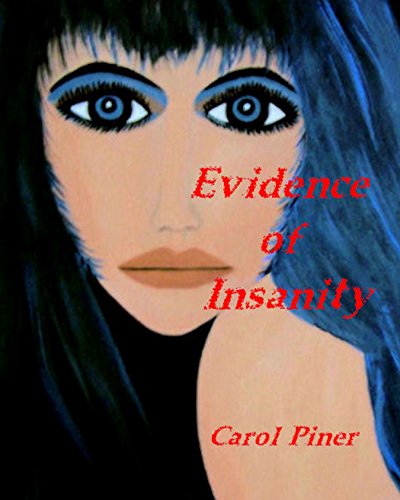 Evidence of Insanity : Carol Piner
Evidence of Insanity
Evidence of Insanity is an unusual novel in that it is being told to you by a southern story teller. So prepare yourself for a fast paced, full-speed-ahead book that leaves you laughing and crying at the same time.
Her stories are told by a southern story teller who is speaking of Little Callie, her main character. Having told her hilarious stories time after time over the years to grateful listeners, Piner has finally put them in book form for the rest of you. If you like wild, weird people who love their Mamas, howls at the moon in the rain, ghosts, faces down adversity, loves animals and can tell her stories like you are sitting there listening, you will love Evidence of Insanity.
Little Callie, was only a 7 month fetus being jostled around in her Mama's womb at Bud Dixon's Texaco while her Mama, draped over the front seat, whacked at Daddy. I was in there banging around and cheering Mama on, screaming, "Git 'im, Mama, git 'im." Yep, she'd caught him with one of his stenches. Then her water broke and the chaos began. It never ended.
Callie was born the fifth of six children by two wildly unprepared and badly matched parents who never once behaved themselves. Not interested in anything other than being her Mama's biggest pain in the ass, a little sneak to the rest of the kids and giving her Daddy the stink eye, she made up her mind when she was about 2 years old to never be anything like the rest of her family so she went about life laughing and making fun of those making fun of her.
Never making it past 5' tall, her personality was huge. She did manage to grow up without killing herself, but she spent her time her as a chaos magnet and as one reader said it, "Callie danced shamelessly through adversity and all that life could throw at her." Life did and Little Callie spit it in the eye, refusing to ever give up or lose the amazing spirit given to her at birth by her Mama.
Piner's first reviewer, a Professor Emeritus at N.C. State University, said Evidence was a "remarkable achievement" and no matter what, not to change one word of the last ten fifteen pages.
Book Links
More Great Reads: