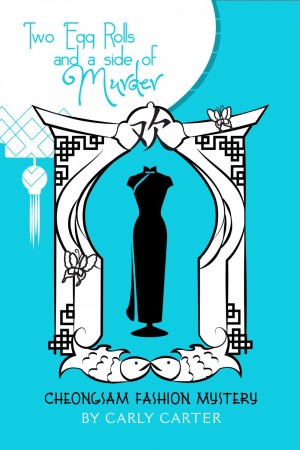 Two Egg Rolls and a Side of Murder : Carly Carter
Two Egg Rolls and a Side of Murder
There's nothing like a murder to kill the romance on date night.
Joy-Li Judson, Harpeth Hollow's vintage loving sleuth, certainly didn't expect to be on a murder case during dinner at The Imperial Wok.
It's mayhem and murder for personal shopper Joy-Li Judson when the body of local podiatrist, Dr. Bai Wang is discovered at the Chinese restaurant. Dr. Wang's death is a shock to the entire community. The kindly podiatrist hosts Harpeth Hollow's annual Foot Ball. The proceeds from the charity ball provides shoes and foot care for underprivileged children in Tennessee.
Why would anyone want to kill such a generous doctor?
Joy-Li Judson is a vintage obsessed, fashion blogger and crime solving sleuth. Our girl is unafraid of couture, passionate about thrifting, and confident in the face of danger.
Joy-Li never turns her back on a good sale or a good murder.
This is the second book in The Cheongsam Fashion Mysteries.
Book Links
Goodreads
Twitter
Amazon Author Page
On Amazon
More Great Reads: