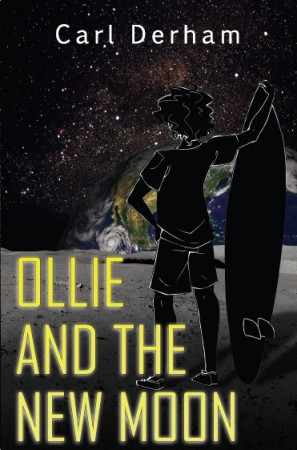 Ollie And The New Moon : Carl Derham
Ollie And The New Moon
This book contains: An adorable young musician, fantastical beings with superior intelligence (Humans are sooooo embarrassingly under evolved…) and your dream date conjured out of the ether! These are amongst the myriad of matter that combine to make 'Ollie and the New Moon' an endearingly hilarious tale packed with excitement and exuberant larking about.
Ollie and the New Moon focuses upon a teenage drummer with a fondness for clubbing and surfing, who lives his entire life in 'Ollie World'.  He travels to Cairo, befriending an Egyptology specialist from a top London museum on his journey. On a trip to the famous pyramids, Ollie disappears without a trace. Inadvertently he finds himself involved with a now-extinct race of beings called Annenians and a space ship commanded by a super-intelligent computer.
An incredible set of events conspire to place Ollie, a fun loving day-dreamer on a riotous galactic adventure. He recruits his friends to help him save the world from a massive asteroid and from the evil Throgloids, who are intent upon its destruction.
"It's amazing what being selected to Captain the most powerful ship in the galaxy will do for a guy's confidence!"
Book Links
Website
Twitter
Amazon Author Page
On Amazon
More Great Reads: