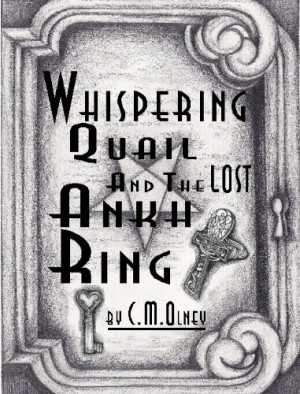 Whispering Quail and the Lost Ankh Ring
"Whispering Quail and the Lost Ankh Ring" is C.M. Olney's first novel about the mystical and magical world of Whispering Quail.
Peter Faris, a very bitter and lonely man is taught the act of kindness and humility with the help of a few odd and unusual creatures. One day, Peter's dilapidated home is robbed and a special ring that once belonged to his deceased wife, Isabelle, had been taken. He sets out to find the perpetrator and along the way makes new discoveries that will dramatically change his life.
A young boy by the name of Alfie Alcott hears a strange voice in his head that compels him. His friends help him to follow the voice's clues to a magical adventure. Through a little mysticism and mayhem, they travel back in time through spinning vortex's and land in another realm where time stands still.
Their journey is thwarted by an evil gypsy witch named Wisteria Whortleberry, and a conniving thief by the name of Cornelius Banning that both have the same goal in mind, to find the Ankh ring and control the world.
All these mysterious stories intertwine into one, leaving you curious about the ending. This book is full of fun and mystical magic you're sure to enjoy.
Book Links
Twitter
Amazon Author Page
On Amazon
Whispering Quail and the Lost Ankh Ring : C. M. Olney