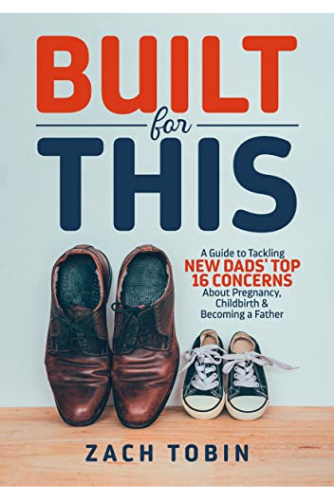 Built for This : Zach Tobin
"We're Pregnant!" can either be the most exciting or the most terrifying phrase in the English language. For many men, it ends up being both.
Zach is enthusiastic about fatherhood as he helps new and expecting dads tackle their fears, answers their hardest questions, and equips them with the clear thinking, skill, and confidence needed to be awesome fathers.
Unlike so many of the other books written for new dads, he skips the condescending 'bro talk' and draws on his real-world experience as a father of four to relate man-to-man. Inside, you'll discover:
• How to slash pregnancy-related medical costs by 50% or more
• Why caring for a newborn takes more than instinct… and how you can do it well
• The science behind bonding with your infant
• What it actually costs to raise a kid, and why you shouldn't be worried
• The 4 best ways to support your partner during labor
• Why babies don't fix struggling relationships… and tips for what does
• Why your sex life may actually improve after kids…along with ways to stay intimate before and after your baby arrives
• How to balance work and fatherhood so you don't sacrifice one in favor of the other
…And much more.
By the time your baby arrives, you'll have the knowledge and skill that you need to embrace the most important role of your life with joy and confidence. Being a good dad is a choice… it's not dictated by your income, IQ, or upbringing.
Equip yourself now with the knowledge all new fathers need so you can start being a strong, supportive dad, even before your baby is born.
Book Links
Website
Facebook
Amazon Author Page
On Amazon
More Great Reads: