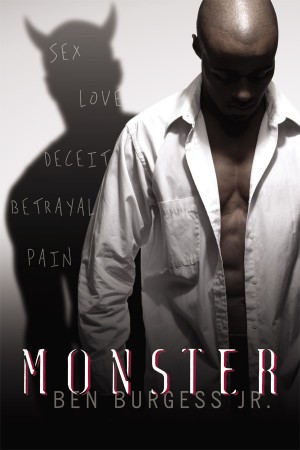 Monster : Ben Burgess Jr.
Monster
Tormented while growing up for being dark-skinned, and the son of a womanizer who deserts his family regularly, Ken Ferguson longed for that feeling of being loved. Ken promised himself that he wouldn't be a manipulating, deceitful man like his father, but after being cheated on and dumped by the girl he thought he would one day marry, he begins his transformation.
Fueled by anger, and tired of being the "nice guy", Ken drowns himself in one-night stands, threesomes, affairs with married women, and sleeping with one conquest after another. He adopts the philosophy of having no commitment and no attachments, but meets his match with Ashley, a girl that makes him want to stop his promiscuous ways. But Ashley turns out to do even more damage to his ego and his heart, wounding him deeply. With his philosophy reinforced, Ken spirals out of control and becomes a MONSTER.
Sleeping with and mistreating random women he meets at bars and clubs, Ken uses sex to forget about his insecurities, his anger, and his sadness. Will Ken learn to let go of his heartbreaks, or will he be consumed by them and continue to be a MONSTER?
Book Links
Facebook (author)
Facebook (book)
Twitter
Goodreads
Amazon Author Page
On Amazon
More Great Reads: